Epson are a prominent printer manufacturer based in Japan. They're considered one of the world's largest computer printer manufacturers and also produce other information and imagine equipment like scanners and copiers.
Their EcoTank range is a popular line of computer printers that utilise an innovative ink cartridge to reduce waste and make refilling the printer easy. There are a range of different EcoTank models, including monochrome and colour models, A3 and A4 sizes, and even printers designed for photographs.
What is an Epson EcoTank printer?
Unlike a normal inkjet printer, Epson EcoTank printers eliminate the need for ink cartridges with their unique, refillable ink tank system. EcoTank printers feature an ultra-high capacity ink system which continuously supplies the printer with ink. So rather than replacing an ink cartridge, all you need to do is top up the tank when needed and continue printing.
How to refill an Epson EcoTank printer
Ink levels are displayed on the front of all EcoTank printers, so you will easily be able to tell when your printer is running low. When you eventually need to refill your ink tanks, all you need to do is follow these 8 simple steps to be back up and running.
– Make sure your EcoTank printer is switched on and the power light is also on. (Make sure the power light is not flashing). If a message appears on the LCD screen about resetting the ink levels press the OK button. Otherwise, select Setup > Maintenance > Reset Ink Levels and press the START button.
– Open the ink tank unit cover, remove the ink tank cap and place it in the cap holder.
– Snap the tip off the ink bottle's cap (don't dispose of it in case you need to seal the bottle again later), carefully remove the cap and then remove the protective seal. Once the protective seal has been removed, close the bottle cap tightly.
– Refill the ink level to the upper line on the ink tank. Each EcoTank ink bottle has a unique spout and inlet design to prevent incorrect filling. Filling will stop automatically once the ink tank is full.
– Once full, seal the ink bottle securely with the bottle cap tip (if any ink remains in the bottle) and replace the ink tank cap. Repeat the previous steps for each ink tank you need to refill.
– Close the ink tank cover and press the OK button on the printer.
– Use the left or right arrows to select the ink tank you have refilled and press the OK button to select it. Repeat this for each ink tank you have refilled.
– Press the START button to reset the ink levels.
Best Epson EcoTank printers
A small 3-in-1 designed for day-to-day use, the Epson EcoTank ET-2700 also comes equipped with a 100-sheet input tray and the ability to print at high speeds up to 33ppm in mono and 15ppm in colour. A maximum print resolution of 5,760 x 1,440 dpi can be achieved for high quality documents. The ET-2700 also features both a USB and a wireless interface along with compatibility with Windows and Mac operating systems.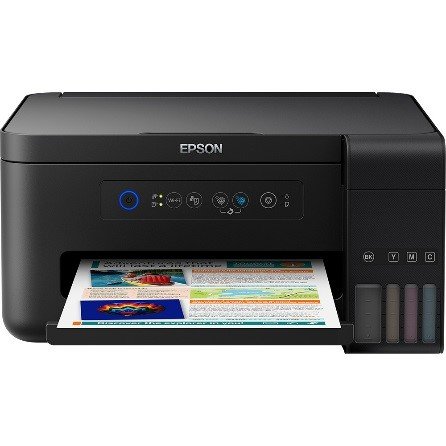 The Epson EcoTank ET-3700 is an A4 colour multifunction printer with the ability to print, scan and copy. Featuring automatic double-sided printing and print speeds up to 33pm this model would be ideal for small business environments. The ET-3700's interfaces include USB, network, wireless and WiFi direct for seamless connectivity.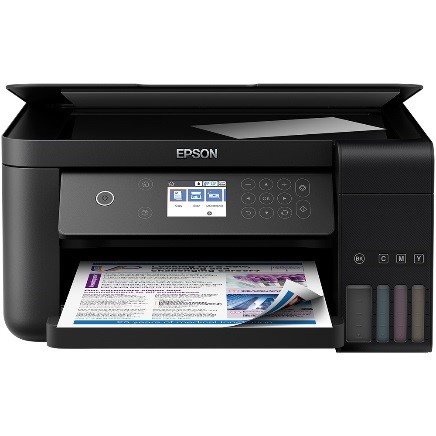 Print, copy, scan and fax with the Epson EcoTank ET-4750. This machine features a 6.1cm LCD colour touchscreen and a USB, network and wireless interface. The ET-4750 comes equipped with a 250-sheet input tray and a 30 sheet ADF for quick scanning capability.